Madagascar : ASTI–FOFIFA Country Factsheet 2018 (Available in French)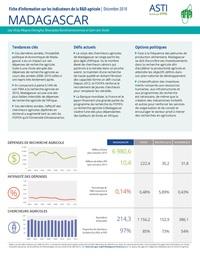 Authors:
Léa Vicky Magne Domgho, Rivonjaka Randriamanamisa et Gert-Jan Stads
Publisher
International Food Policy Research Institute and Centre National de Recherche Appliquée au Développement Rural
Key trends
Madagascar's political and economic instability have had a severe adverse impact on the country's agricultural research spending in recent years. Expenditure levels dropped by 40 percent between 2008 and 2010 and have only slowly increased since.
Spending just 0.14 percent of its AgGDP on agricultural research in 2016, Madagascar's agricultural research spending intensity is one of the lowest in Africa.
The number of PhD-qualified agricultural researchers has increased in recent years, both at FOFIFA and the University of Antananarivo.
Current challenges
Madagascar has one of the oldest pools of agricultural researchers in Africa. Maintaining high-quality research and avoiding capacity erosion will be crucial challenges in the coming years as large numbers of senior researchers are set to retire.
The World Bank, France, and Japan fund a large portion of FOFIFA's research agenda. In fact, agricultural research in Madagascar is among the most donor-dependent in Africa.
Policy options
Given the country's frequent food production shortages, Madagascar needs to increase investment in agricultural research to accelerate agricultural productivity and reach the goals defined in its Fisandratana 2030 development plan.
Increased investments in human resources, infrastructure, and research programs are needed, as is the creation of incentives and mechanisms to strengthen the provision of extension and advisory services and to incentivize the private sector to conduct agricultural research.