Public Agricultural R&D Investments and Capacities in Developing Countries: Recent Evidence for 2000 and beyond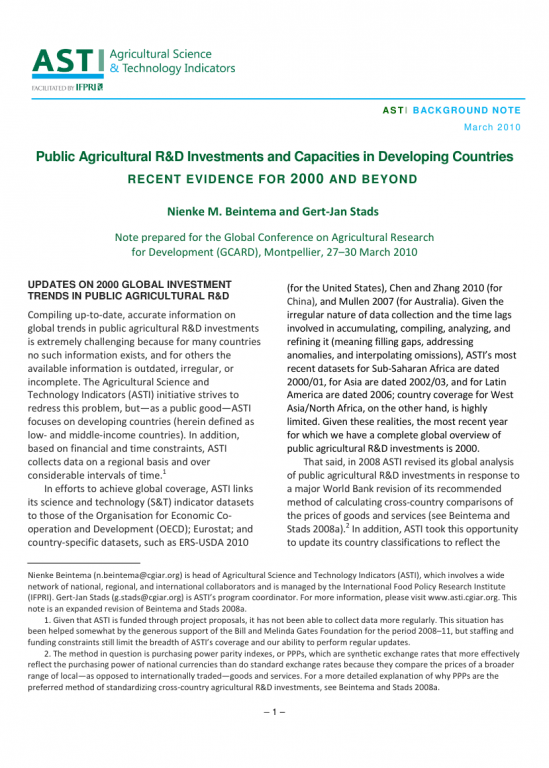 Authors:
Beintema, Nienke; Stads, Gert-Jan
Publisher
International Food Policy Research Institute (IFPRI); and Agricultural Science and Technology Indicators (ASTI)
Revised data analyses for the Asia–Pacific and Latin America and the Caribbean regions, along with initial analyses for Sub-Saharan Africa that have yet to be finalized, indicate that—more than ever—the knowledge divide among rich and poor countries (the so-called scientific "haves" and "have-nots") is growing. A large number of low- income countries continue to experience reduced donor support and lack of prioritization of agricultural R&D by national governments. Sustainable financial and political support for agricultural R&D is crucial, as is the creation of attractive investment climates for private investors, if the challenges of sustainable economic and social development are to be met. In particular, without sustainable funding for agricultural R&D, low-income, agriculture- dependent countries will continue to struggle in poverty.
Quantitative information is fundamental to understanding the contribution of agricultural S&T to agricultural growth. Indicators derived from such information allow the performance, inputs, and outcomes of agricultural S&T systems to be measured, monitored, and benchmarked. Up-to- date information is a critical tool to interpreting the current status and direction of national agricultural research systems in developing countries. Regular countrie collection of agricultural S&T capacity and pacity a investment data is therefore essential in order to sential keep this information up-to-date.