Ethiopia: ASTI–EIAR Country Factsheet 2018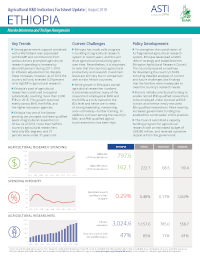 Authors:
Nienke Beintema and Tesfaye Haregewoin
Publisher
International Food Policy Research Institute and Ethiopian Institute for Agricultural Research
Key trends
Strong government support combined with a World Bank loan associated with EAAPP and contributions from various donors prompted agricultural research spending to increase by about 60 percent during 2011–2016 (in inflation adjusted terms). Despite these increases, however, as of 2016 the country still only invested 0.29 percent of its AgGDP in agricultural research.
Ethiopia's pool of agricultural researchers continued to expand substantially, reaching more than 3,000 FTEs in 2016. This growth occurred evenly across EIAR, the RARIs, and the higher education agencies.
Ethiopia has one of the fastest-growing, yet youngest and least-qualified pools of agricultural researchers in Africa. As of 2016, more than half the country's agricultural researchers held only BSc degrees, and 37 percent were under 31 years old.
Current challenges
Ethiopia has made solid progress in building its agricultural research system in recent years, and this will drive agricultural productivity gains over time. Nevertheless, it is important to note that the country's agricultural productivity and investment levels are still very low in comparison with similar African countries.
While growth in Ethiopia's overall agricultural researcher numbers is extremely positive, many of the researchers employed at EIAR and the RARIs are only trained to the BSc level and hence are in need of strong leadership, mentorship, and—ultimately—further training.  In addition, turnover among the country's MSc- and PhD-qualified agricultural researchers has been high in recent years.
Observations and policy developments
To strengthen the coordination of its fragmented agricultural research system, Ethiopia developed a NARS reform strategy and established the Ethiopian Agricultural Research Council. The Council prepared a roadmap for developing the country's NARS, including detailed analyses of current and future challenges, and findings that the facilities were inadequate to meet the country's research needs.
Donors initially contributed funding to enable retired PhD-qualified researchers to be employed under contract at EIAR to train and mentor newly recruited BSc-qualified researchers. More recently, increased government funding has enabled the continuation of this practice, which enables junior staff to receive much-needed guidance.
The Council submitted a capacity building program for agricultural research with an estimated budget of US$280 million, and received a positive response from the government