Eritrea: ASTI–NARI Country Factsheet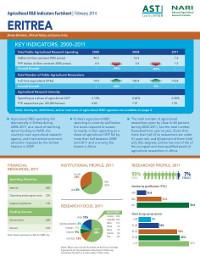 Authors:
Nienke Beintema , Michael Rahija, and Iyassu Fesha
Publisher
International Food Policy Research Institute and the National Agricultural Research Institute.
Agricultural R&D spending fell dramatically in Eritrea during 2008–2011 as a result of declining donor funding to NARI, the country's main agricultural research agency, and international economic sanctions imposed by the United Nations in 2009.

Eritrea's agricultural R&D spending is currently well below the levels required to sustain its needs; in fact, spending as a share of agricultural GDP fell by more than half between 2008 and 2011 and is among the lowest in Africa.

The total number of agricultural researchers grew by close to 60 percent during 2000–2011, but the total number fluctuated from year to year. Given that more than half of its researchers are under 41 years old, and 60 percent of them hold only BSc degrees, Eritrea has one of the of the youngest and least-qualified pools of agricultural researchers in Africa.