Democratic Republic of Congo: ASTI–INERA Country Factsheet 2018 (Available in French)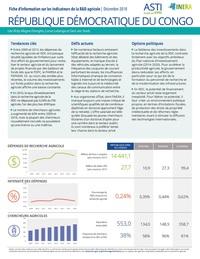 Authors:
Léa Vicky Magne Domgho, Lunze Lubanga et Gert-Jan Stads
Publisher
International Food Policy Research Institute and Institut National pour l'Étude et la Recherche Agronomiques.
Key trends
DR Congo's agricultural research spending doubled (in inflation-adjusted terms) during 2009–2013 following government efforts to revitalize the agricultural sector and the launch of a number of donor-funded projects, including PDPC, PARRSA, and PAPAKIN. However, reduced government funding in more recent years has prompted a steady decline in the country's agricultural research investment.  
As of 2016, DR Congo invested just 0.24 percent of its AgGDP in agricultural research, which is among the lowest levels in Africa.
The country's agricultural researcher numbers grew by 60 percent during 2009–2016, although most of these newly recruited researchers held only BSc or MSc degrees.
Current challenges
Numerous factors present challenges to the effective conduct of agricultural research, including derelict buildings and equipment, insufficient access to vehicles to conduct field research, frequent power outages that disrupt trials, unreliable Internet access, lack of up-to-date computer technology and software, and poor communication channels between headquarters and remote stations across this vast country.
INERA and the other government agencies continue to lack a critical mass of scientists qualified to the PhD level (and many of those with PhD degrees are approaching retirement age). Low public-sector salaries act as a disincentive for younger PhD-qualified scientists to pursue careers in research; many choose careers in the private sector instead.
Policy options
DRC's low investment levels in agricultural research are in stark contrast with the ambitious goals set in the government's National Agricultural Investment Plan (2014–2020). To accelerate agricultural productivity, the government will need to increase its investment in agricultural research, particularly in research staff training and infrastructure upgrades.
The private sector funding potential remains largely untapped in DR Congo. Cultivating private funding involves providing a more enabling policy environment in terms of tax incentives, protection of intellectual property rights, and regulatory reforms to encourage the spill-in of international technologies.