Burundi : ASTI–ISABU Country Factsheet 2018 (Available in French)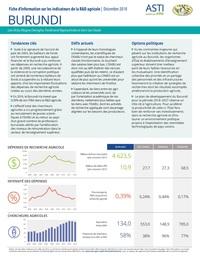 Authors:
Léa Vicky Magne Domgho, Ferdinand Nganyirinda and Gert-Jan Stads
Publisher
International Food Policy Research Institute and Institut des Sciences Agronomiques du Burundi.
Key trends
During the years following the country's 2003 peace agreement, donor funding flowed rapidly, prompting increased agricultural research spending. Growing violence and political corruption have caused many donors to suspend or cut aid since and are at the reason for the important year-to-year fluctuations in Burundi's agricultural research expenditures in more recent years.
In 2016, Burundi invested just 0.39 percent of its AgGDP in agricultural R&D.
The total number of agricultural researchers has risen over time in response to the recruitment of young scientists at ISABU and the return to Burundi of a large number of Burundian professors from universities abroad, prompted by improved salary levels in the higher education sector.
Current challenges
Unlike their university-based counterparts, ISABU's scientists are classified as public servants, not researchers. As a result, their salaries are much lower, creating a challenge for ISABU to attract and retain well-qualified researchers. In addition, the benefits of CAMES membership (francophone Africa's higher education council) further attract researchers away from ISABU to universities.
However, based on their academic focus, universities have much weaker linkages with farmers compared with ISABU, which focuses on applied research of relevance to the needs of producers.
Policy options
Given the tremendous constraints to agricultural research agencies in Burundi, government and higher education agencies need to pool their scarce resources more efficiently. By collectively identifying research priorities and sharing staff and infrastructure, these agencies could create synergies in the conduct of research, ultimately generating outputs to enhance agricultural production.
Agriculture plays a key role in Burundi's 2018–2027 development plan. To accelerate agricultural productivity, the government of Burundi needs to increase its investment in agricultural research and ensure a policy environment that facilitates spillovers of technologies from neighboring countries.