Bangladesh: ASTI–BARC Country Factsheet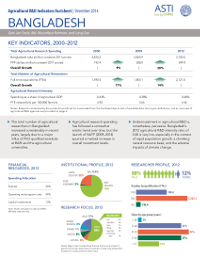 Authors:
Gert-Jan Stads, Md. Mustafizur Rahman, and Lang Gao
Publisher
International Food Policy Research Institute and Bangladesh Agricultural Research Council
The total number of agricultural researchers in Bangladesh increased considerably in recent years, largely due to a major influx of PhD-qualified scientists at BARI and the agricultural universities.

Agricultural research spending has followed a somewhat erratic trend over time, but the launch of NATP (2009–2014) spurred a marked increase in overall investment levels.

Underinvestment in agricultural R&D is, nonetheless, pervasive: Bangladesh's 2012 agricultural R&D intensity ratio of 0.40 is very low, especially in the context of rapid population growth, a shrinking natural resource base, and the adverse impacts of climate change.